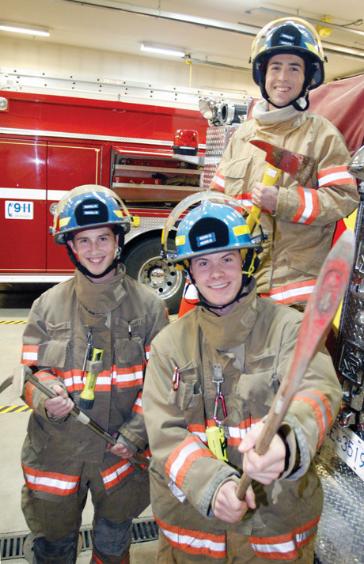 Are you?
interested in helping your community
interested in a career as a firefighter
resident of Metchosin
interested in earning school credits toward high school graduation
16-19 years old
If this sounds like you call 250-478-1307
Junior Firefighters do the same training, carry pagers and practice with our regular members – however they DO NOT ROLL TO EMERGENCY SCENES.
The Junior Firefighter Program is a training program instituted by the Metchosin Volunteer Fire Department for young men and women, ages 16 – 18, interested in serving their community and preparing to become active Firefighters upon reaching the age of 19.  At age 19, the Junior Firefighter is eligible to switch over to full member status.
Due to the inherent dangers of firefighting, strict rules of conduct and tight procedural standards are established.  In an actual emergency, it is essential that all Firefighters, including Junior Firefighters, act in a calm and efficient manner.  The Junior Firefighters are expected to attend weekly training drills to be prepared for the many challenges presented in an emergency situation.  Each member is expected to read and understand these requirements and to adhere to the standards.  The Metchosin Volunteer Fire Department Officers are available to discuss any questions.
Junior Firefighters represent the Metchosin Fire Department, and are expected to be courteous and respectful to fellow Firefighters, emergency service personnel and all citizens served. 
The Metchosin Fire Department will not tolerate vulgar, offensive, discriminatory or threatening language or gestures at any time.
Junior Firefighters may respond to the fire hall when the pager sounds, but will NOT roll on the apparatus in response to the incident.
Interested – download your junior firefighter application here: METCHOSIN JR APPLICATION